Traveling without travel insurance policy is like fooling yourself!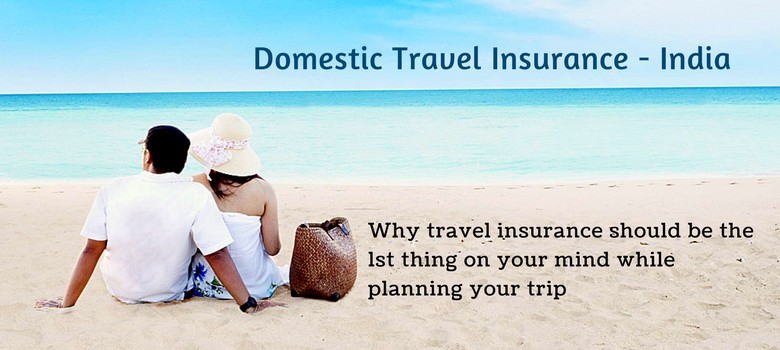 Domestic travel insurance is conceptually new in travel insurance category. And it is generally misunderstood to be costly. Moreover, we tend to ignore it as our decision to opt out outweighs the benefits resulting in case of mishap, mainly due to ignorance of knowledge of the product. The present blog covers the very basic of domestic travel insurance in India and stresses more on why we must ensure each and every trip irrespective of domestic or international.
Domestic travel insurance – a must for everyone
It is very hard to find anyone who does not travel. Almost all of our travel, either for a purpose or out of compulsion. The purpose could be anything, leisure or business or official. Similarly, compulsion could be, for example, due to some emergency. Either way, one has to travel, domestic or some international destinations. However, when comes to ensuring the risk associated with travel, we readily accept it while traveling abroad, but check out the option during domestic trips.
Some of the prominent Indian insurance companies that cover domestic insurance policies are Tata AIG, Reliance, Appollo Munich, Bajaj Allianz, and Religare.
After going through the present blog article, you will always ensure to have one while traveling. The article focuses on the need of domestic travel insurance and will work as a beginners guide as well. Let's first understand the very basic but important question relating to travel insurance.
Why buy domestic travel insurance?
This question always haunts in the backend of the mind of most of us while booking a ticket either through railway or any of the airlines. Or more importantly …why not? The possibility of life threat incidence while on travel, other travel related issues like accidents, loss of baggers, medical emergencies etc. comes as surprise while in transit. And domestic transits are no exception. Furthermore, it is always better to be ready with plan B during such surprises. Though not fully protected, yet insurance covers the financial aspects of such surprises.
"Necessity is the mother of invention." So is true for the domestic travel insurance policies. However, the problem is in its reach and more importantly, awareness. Merely existence of good travel insurance policy does not solve the problem. Travelers must understand the importance and need of such policies and always plan travel with one of them. A few bucks of expense towards prevention from financial losses, in a situation of any mishap, would always be an idle decision than merely depending upon luck.
Let's take an example of flight cancellation or delay. Suppose Mr. Verma who flies frequently for business trips across the country. Let's assume that during one of such trip his flight delayed and he missed the connecting flights and hotel accommodations thereafter. In absence of any domestic travel insurance policy, Mr. Verma had no other option left then to buy another ticket at a very high rate out of his own pocket. Probably he has also to bear additional cost towards the extension of his stay in the hotel. But if he is insured then travel insurance company comes to his rescue. The insurer compensates Mr. Verma with the entire interruptions provided he produces a valid proof.
Characteristics of a typical domestic travel insurance policy
Before deep driving into the blog further please check your eligibility for availing domestic travel insurance. This is more generalized eligibility criteria's and policy-specific criteria are always advised to consult. After that, a brief description of features, inclusions, and exclusions of a typical such policy is covered. This will help you understand the general structure of the policy.
Eligibility criteria for availing domestic insurance policy
An Indian citizen traveling within the country
Foreigners with passports of any other country with proofs of work permits or touring
Age between six months to 70 years.
Minor, between the age of six months and five years to be indemnified only with their parents/guardian.
Important features of domestic travel insurance
Round-the-clock medical assistance on phone across the country
Recommendations and expert opinions from medical practitioners, healthcare centers and hospitals across India
Medical costs reimbursement in case of hospitalization during insurance covered travel.
Provision for emergency situations like evacuation, deportation, and repatriation of mortal
Info service regarding the most current travel and health facts regarding your chosen destination
Lost luggage coverage and round the clock help
Relaxation on medical test up to age 70 in most cases
Inclusions in the policies
Hospitalization due to accident
Demise due to accidents and permanent total disability
Emergency medical evacuation advantage
Deportation of remains benefit
Individual liability benefit
Benefit of accidental hospital money
Hotel accommodation rent in case of postponed /delay in train/plane
Loss of rail/flight ticket following accident covered
For business tours facility of additional staff assistance in case of emergency
Ticket expenses in case of train or flight miss due to covered hazard
Pay up to a sum mentioned in the policy is liable for any property damage
Reimbursement of round-trip economy airfare and hotel for one immediate family member in case of hospitalized on the policyholder trip
Exclusions from the policies
Traveling against advice of a doctor or for medical treatment or diagnosed with a terminal illness
Suicide, self-wreaked harm, STDs, the mental or nervous disorder such as stress, depression, anxiety etc.
Member of the military or armed forces of any nation and without specifying it
Accidents due to influence of alcohol or drugs
Complications due to prolonged childbirth or pregnancy
All non-medical expenses
A part of an attempted crime, civil commotion, misdemeanor, or riot
Participation in adventure and winter sports like skydiving, or races on any motorized automobile.
Life is yours so the decision must be yours
A typical domestic insurance policy coverage and premium depends largely on factors like medical conditions, the place of visit and the length of the trip. So buying such travel insurance policy surely makes sense!
Isn't it?
Such cover protects you in the event of circumstances that create any type of interruption in the trip plans. They basically help to minimize any kind of financial risks that may occur due to the medical emergency, trip cancellation/interruption, passport loss and legal expenses. Even events like delay or missed departure, loss or delay in the arrival of baggage, loss of cash, or valuables etc. are also covered.
It is no wonder that Bajaj Allianz had come up with ensuring your daily commute with public vehicles even by bicycle. Their Bharat Bhraman Policy is for all individuals traveling within India, for holiday/business/personal trips in common or private vehicles. This can be availed for e-commerce cabs as well. The period of this policy can be as short as one cab ride and can be as long as 365 days after which renewal is required.
So guys what you are waiting for! Go and grab one for your next trip.
You can't be assured of 100% safety so why take chances when there are a risk mitigating solutions. solution to make yourself risk-free.
Subscribe to Blogs
Get latest news & updates on Insurance Policies.
Renew Your Policy
Share your Current Policy &
Renew it Online.
Talk to an Expert Advisor
askus@rmoneyindia.com 0562-7188900
Call us now to get answers on all your queries related to Insurance.