Doctors`s Indemnity/Personal Indemnity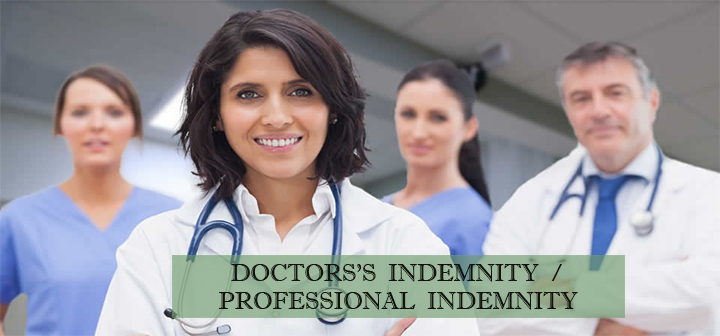 The Policy will indemnify any act committed by the insured, who shall be Registered Medical Practioner, giving rise to any legal liability to Third Parties.  The Insured includes Policyholder and his qualified assistants or employees named in the proposal.
The act has to be committed during the period of insurance commencing from the retroactive date (first day and time on which insurance has commenced and continued thereafter without break)
SCHEDULE  OF  RATES:-
(To be charged on Any One Year Limit – AOY)
Rate Per Mille on AOY Limits.
RATIO
1:01
1:02
1:03
1:04
1.Physicians with/without dispensing and other facilities General Radiologis/Pathologists.
0.5
0.4
0.4
0.3
2.Specialist-Consulting Physician (Non -Surgical)
1.0
0.8
0.7
0.6
3. Surgeons (excluding specialists in Plastic Surgery) Lithotripsy, Dentists & similar extra corporal method of treatment would fall within this Category.
2.0
1.6
1.4
1.2
4.Surgeons (Plastic Surgery) & anaesthetist.
3.0
2.4
2.1
1.8
 Note: (1)  Unqualified Staff may be covered by charging 7.5% Extra Premium.
           (2)    For indemnity, any one accident limit would be 25%, 33.33%,  50%,  100%  selected for  Anyone year limit.
 PROFESSION  INDEMNITY  POLICY:-
Professionals in the course of discharging their services may commit errors and omissions or cause damage/loss/hardship to their clients by way of unintentional negligence.  They are responsible for such liabilities unde the common law and any other specific law.  They may be required to pay heavy compensation which will be beyond their capacity.  Hence on the lines of Medical Practioners and Medical Establishments, Professional Indemnity Policy available to the following professionals.
Chartered Accountants.
Lawyers,
Advocates,
Solicitors.
Architects.
This class of insurance is not very popular. But now days it has almost become practice on the part of reputed and big business firms to insist on an insurance policy before engaging the services of any professional.
DOCTORS & MEDICAL PRACTITIONER/MEDICAL ESTABLISHMENT.
(For Hospital, Nursing Homes, Diagnostic Centre, Pathological Laboratories etc.)
The Policy will indemnity the Insured in respect in respect of any act committed by the professional or qualified assistants named in the proposal engaged by the medical establishment which gives rise to any Third Party Legal liability.  Such activities will be part of the declared medical activities of the establishment.
| | | | | |
| --- | --- | --- | --- | --- |
| Ratio | 1: 1 | 1: 2 | 1: 3 | 1: 4 |
| Rate | 3.00 | 2.40 | 2.10 | 1.80 |
Rate: Rs.5/- Per in Patient and Rs. 1/- Per Out Patient.
Radio activity treatment (Other than X-Ray) additional premium of `15% on total premium.
For employment of unqualified nurses / para-medical staff / technical staff additional premium of 7.5% of indemnity premium.
Number of patients to be as per previous year's record or the anticipated No. of patients during the year whichever is higher)
Excess:        0.25% of the AOY limit subject to minimum of Rs.1000/- and a maximum of Rs.1,00,000/-
Minimum Premium: Under One Policy – Rs.1000/-
Voluntary Excess: Discount in premium is permissible as provided for in the General Rules and Regulations.
GENERAL NOTE:
Short Period Policies are not permitted. In case Insured desires cancellation, short period scale rates as provided for will be applicable.
In the normal course, all claims for compensation have to be legally established in a court of law. However, Insurers may arrive at compromised settlement if prima-facie liability exists under the policy.
Jurisdiction applicable will be Indian Courts.
Group Discount to be allowed under all Policies under Professional Indemnity Insurance Market Agreement depending upon the number of members covered in the Policy as per the slabs given below:-
| | |
| --- | --- |
| Upto  200 Members | No Discount. |
| 201 to 1000 Members | 5% |
| 1001 to 5001 Members | 10% |
| 5001 to 20000 Members | 15% |
| Above 20000 Members | 20% |
Visit Rmoneyinsurance for more updates on Insurance.
Subscribe to Blogs
Get latest news & updates on Insurance Policies.
Renew Your Policy
Share your Current Policy &
Renew it Online.
Talk to an Expert Advisor
askus@rmoneyindia.com 0562-7188900
Call us now to get answers on all your queries related to Insurance.