Importance of Insurance-You must Know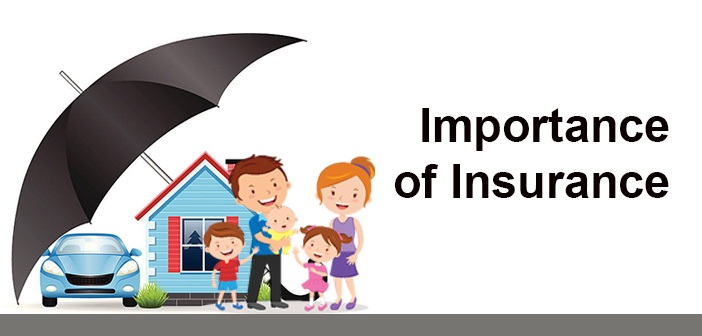 The concept of Insurance is as old as the dawn of civilisation.  Marine Insurance is considered to be the oldest branch of insurance for providing protection against loss or damage in sea voyages.  Life Insurance in its modern form came to India from England in the year 1818 and by 1868 there were 285 companies doing the business of Insurance in India.
The following points show the importance of Insurance:
 1. Provide Safety and Security.
Insurance provides financial support and reduces uncertainties in business and human life.  It provides safety and security against the particular event.  There is always a fear of sudden loss.  Insurance provides a cover against any sudden loss.  For Example, in a case of life insurance financial assistance is provided to the family of the insured on his death.  In the case of other insurance, security is provided against the loss due to fire, marine accident etc.  Without insurance trade and commerce will find it difficult to face the major impact of perils like fire; flood and earthquake etc..
 2.  Generates financial resources:
Insurance generates funds by collecting premium. These funds are invested in government securities and stock. These funds are gainfully employed in the industrial development of a country for generating more funds and utilised for the economic development of the country.  Employment opportunities are increased by big investments in industries.
3. Life Insurance Encourages Savings:
Insurance does not only protect against risks and uncertainties but also provides an investment channel too.  Life Insurance enables systematic savings due to the payment of regular premium.  Life insurance provides a mode of investment.  It develops a habit of saving money by paying a premium.   The insured gets the lump sum amount at the maturity of the contract.  Thus life insurance encourages savings.
 4. Promotes economic growth:
Insurance generates a significant impact on the economy by mobilising domestic savings.  Insurance invests accumulated capital into productive investments.  Insurance enables to mitigate loss, financial stability and promotes trade and commerce activities those results into economic growth and development.  Thus, insurance plays a crucial role in the sustainable growth of an economy.
 5. Medical Support to individuals:
A medical insurance considered essential in managing risk in health. Anyone can be a victim of critical illness unexpectedly. And rising medical expense is of great concern.  Medical Insurance is one of the insurance policies that cater for different type of health risks.  The insured gets a medical support in case of Medical Insurance Policy/Health Insurance Policy.
6.Spreading of risks:
Insurance is basically a sharing device.  Insurancfacilitates spreading of risk from the insured to Insurer.  The basic principle of insurance is to spread risk among a large number of people.  A large number of persons get insurance policies and pay a premium to the insurer.  Whenever a loss occurs, it is compensated out of funds of the insurer.  Thus the contribution of may is used to pay the losses suffered by unfortunate few.
 7.Helps to save Income Tax:
Life Insurance Policy Premiums deposited during the financial year upto Rs.1.50 lacs qualify for Income-Tax rebate vide section 80C plus Rs.50,000/- paid for pension scheme of the Life Insurance Company vide Section 80 CCD; and plus Rs.25,000/- premium deposited for Medical Benefit covers Mediclaim Policy premium vide section 80 D.  Thus total Rs.2.25 Lacs per year qualify for Tax-Rebate as per Income Tax Act, 1961.
Visit Rmoneyinsurance to get latest updates on Insurance.
Subscribe to Blogs
Get latest news & updates on Insurance Policies.
Renew Your Policy
Share your Current Policy &
Renew it Online.
Talk to an Expert Advisor
askus@rmoneyindia.com 0562-7188900
Call us now to get answers on all your queries related to Insurance.