Ombudsman for Redressal of Insurance Grievances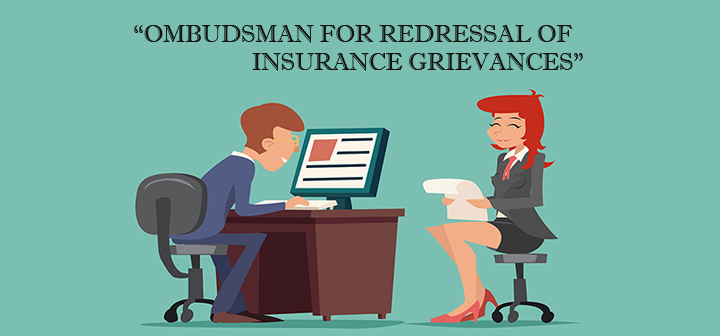 Central Government by notification, has framed the Redressal of Public Grievances Rules, 1998. These rules apply to Life and General Insurance in respect of Personal Line Insurance i..e-insurance taken in an individual capacity. 
The Ombudsman may receive and consider complaints in respect of:-
Any partial or total repudiation of claims by an insurer.
Any dispute in regard to premium paid or payable in terms of the policy.
Any dispute on the legal construction of the policies in so far as such disputes relate to claims.'
Delay in settlement of the claims.
Non-issuance of any insurance documents to customers after receipt of premium.
No Complaints to the Ombudsman shall lie unless:-
The complainant had made a previously written representation to the insurer and the insurer had
Rejected the complaint or
The complainant had not received any reply within one month after receipt of the complaint by the insurer, or
The complainants are not satisfied with the reply given by the insurer.
The complaint is made not later than one year after the insurer had rejected the representation.
The complaint is not pending in any court or consumer forum or in arbitration.
Appointment of Ombudsman:
The rules state the following in regard to the appointment of Ombudsman:
One or more persons may be appointed as Ombudsman.
Selection will be from an eminent group of persons who have experience in the industry.
Civil Service, Administrative Service, Judicial Service etc.
The Governing Body of Insurance Council appoints an ombudsman.
An initial appointment is for 3 years but re-appointment is allowed.
The Powers of Ombudsman:
The Ombudsman is authorised to deal with:-
Claim disputes including delays and refusals.
Disputes regarding premiums payable.
Disputes regarding legal aspects of policies.
The non-issue of insurance documents after receipt of premium.
Complaint Procedure.
Any complaint must be made within one year of the complaint being rejected by the insurance company (especially where the insurer has either rejected the complaint or has not replied within 1 month of receiving the complaint). It should be in writing and signed by the person making the complaint giving his / her name and address and the branch office and address of the insurer against whom the complaint is made.  The ombudsman can entertain complaints from the individual policy holders only.
The ombudsman shall act as a counsel and mediator in matters within its terms of reference.  It is not the judicial authority and has no night to summon any witness. The complainant and Insurer can make the personal submission but lawyers are not permitted to argue the case.
Once the ombudsman has received a complaint, a recommendation within one month from the date of receipt must be made.  The person making the complaint has 15 days from receipt of the ombudsman recommendation to accept the terms.  Once the person making the complaint has agreed to the terms, the ombudsman will send a copy of the recommendation and acceptance to the insurer.  The insurer then has 15 days to comply with the terms agreed.
If a complaint is not settled by agreement, as above, the ombudsman passes an award he thinks is fair under the circumstances.  The award must be passed within 3 months of receipt of the original complaint.
On receipt of the Ombudsman's award, the person who has complained will have to inform that he is accepting the award, otherwise, the Insurance Company may not implement the award.
The maximum award that can be made by the Ombudsman is Rs.20,00,000/-
ADDRESS
CONTACT DETAILS & JURISDICTION
AHMEDABAD
Office of the Insurance Ombudsman,
2nd floor, Ambica House,
5, Navyug Colony, Ashram Road,
Ahmedabad – 380 014
Tel.:- 079-27546150/139
Fax:- 079-27546142
Email:-bimalokpal.ahmedabad@gbic.co.inState of Gujarat and Union Territories of Dadra & Nagar Haveli and Daman and Diu.
BENGALURU

Office of the Insurance Ombudsman,
Jeevan Soudha Building,
PID No.57-27-N-19,
Ground Floor, 19/19, 24th Main Road,

JP Nagar, 1st Phase,
Bengaluru-560 078.

Tel.:- 080-26652048 / 26652049
Email:- bimalokpal.bengaluru@gbic.co.in
BHOPAL
Office of the Insurance Ombudsman,
Janak Vihar Complex,
2nd Floor, 6, Malviya Nagar,
Opp.Airtel Office, Near New Market,
Bhopal – 462 033.
Tel.:- 0755-2769200/201/202
Fax:- 0755-2769203
Email:- bimalokpalbhopal@gbic.co.inStates of Madhya Pradesh and Chattisgarh.
BHUBANESHWAR
Office of the Insurance Ombudsman,
62, Forest park,
Bhubneshwar – 751 009.
Tel.:- 0674-2596461 / 2596455
Fax:- 0674-2596429
Email:-bimalokpal.bhubaneswar@gbic.co.inState of Orissa.
CHANDIGARH
Office of the Insurance Ombudsman,
S.C.O. No. 101, 102 & 103, 2nd
Floor, Batra Building, Sector 17 – D,
Chandigarh – 160 017.
Tel.:- 0172-2706196/5861 / 2706468
Fax:- 0172-2708274
Email:-bimalokpal.chandigarh@gbic.co.inStates of Punjab, Haryana, Himachal Pradesh, Jammu & Kashmir and Union territory of Chandigarh.
CHENNAI
Office of the Insurance Ombudsman,
Fatima Akhtar Court,
4th Floor, 453 (old 312), Anna Salai,
Teynampet,
CHENNAI – 600 018.
Tel.:- 044-24333668 / 24335284

Fax:- 044-24333664
Email:- bimalokpal.chennai@gbic.co.in
State of Tamil Nadu and Union Territories – Pondicherry Town and Karaikal (which are part of Union Territory of Pondicherry).

DELHI
Office of the Insurance Ombudsman,
2/2 A, Universal Insurance Building,
Asaf Ali Road,
New Delhi – 110 002.
Tel.:- 011-23239611/7539/7532
Fax:- 011-23230858
Email:- bimalokpal.delhi@gbic.co.inKerala, Lakshadweep, Mahe-a part of Pondicherry
ERNAKULAM
Office of the Insurance Ombudsman,
2nd floor, Pulinat Building,
Opp. Cochin Shipyard,M.G. Road, Ernakulum – 682 015.
Tel.:- 0484-2358759/2359338
Fax:- 0484-2359336
Email:- bimalokpal.ernakulum@gbic.co.inKerala, Lakshadweep, Mahe-a part of Pondicherry
GUWAHATI
Office of the Insurance Ombudsman,
'Jeevan Nivesh', 5th Floor,
Nr. Panbazar over bridge, S.S. Road,
Guwahati – 781001(ASSAM).
Tel.:- 0361- 2132204 / 2132205
Fax:- 0361-2732937
Email:- bimalokpal.guwahati@gbic.co.inStates of Assam, Meghalaya, Manipur, Mizoram, Arunachal Pradesh, Nagaland and Tripura.
HYDERABAD
Office of the Insurance Ombudsman,
6-2-46, 1st floor, "Moin Court"
Lane Opp. Saleem Function Palace,
A. C. Guards, Lakdi-Ka-Pool,
Hyderabad – 500 004.
JAIPUROffice of the Insurance Ombudsman,
Jeevan Nidhi-II Bldg.,Ground Floor,

Bhawani Singh Marg,

Jaipur – 302005.

Tel.:- 040-65504123/23312122
Fax:- 040-23376599
Email:- bimalokpal.hyderabad@gbic.co.inStates of Andhra Pradesh, Telangana and Union Territory of Yanam – a part of the Union Territory
of Pondicherry.Tel.:- 0141-2740363
Email:- bimalokpal.jaipur@gbic.co.in

State of Rajasthan.

KOLKATA
Office of the Insurance Ombudsman,
Hindustan Building Annexe,
4th floor, 4, CR Avenue,
Kolkata – 700 072.
Tel.:- 033-22124339 / 22124340
Fax:- 033-22124341
Email:- bimalokpal.kolkata@gbic.co.inStates of West Bengal, Bihar, Sikkim and Union Territories of Andaman and Nicobar Islands.
LUCKNOW
Office of the Insurance Ombudsman,
6th Floor, Jeevan Bhawan,
Phase-II, Nawal Kishore Road,
Hazratganj,
Lucknow-226 001.
Tel.:- 0522-2231330 / 2231331
Fax:- 0522-2231310.
Email:- bimalokpal.lucknow@gbic.co.inDistrict of Uttar Pradesh:  Lalitpur, Jhansi, Mahoba, Hamirpur, Banda, Chitrakoot, Allahabad, Mirzapur, Sonbhabdra, Fatehpur, Pratapgarh, Jaunpur, Varansi, Gazipur, Jalaun, Kanpur, Lucknow, Unnao, Sitapur, Lakhimpur, Bahraich, Barabanki, Raebareli, Sravasti, Gonda, Faizabad, Amethi, Kaushambi, Balrampur, Basti, Ambedkarnagar, Sulanpur, Maharajganj, Santkabirnagar, Azamgarh, Kaushinagar, Gorkhpur, Deoria, Mau, Chandauli, Ballia, Sidharathnagar.
MUMBAI
Office of the Insurance Ombudsman,
3rd Floor, Jeevan Seva Annexe,
S. V. Road, Santacruz (W),
Mumbai – 400 054.
Tel.:- 022-26106928/360/889
Fax:- 022-26106052
Email:- bimalokpal.mumbai@gbic.co.inStates of Goa, Mumbai Metropolitan Region excluding Navi Mumbai & Thane
NOIDA
Office of the Insurance Ombudsman,
Bhagwan Sahai Palace,
4th Floor, Main Road,
Naya Bans, Sector-15,
Gautam Budh Nagar, Noida
Email:- bimalokpal.noida@gbic.co.in

States of Uttaranchal and the following Districts of Uttar Pradesh:. Agra, Aligarh, Bagpat, Bareilly, Bijnor, Budaun, Bulandshehar, Etah, Kanooj, Mainpuri, Mathura, Meerut, Moradabad, Muzaffarnagar, Oraiyya, Pilibhit, Etawah, Farrukhabad, Firozabad, Gautam Budh Nagar, Ghaziabad, Hardoi, Shahjahanpur, Hapur, Shamli, Rampur, Kashganj, Sambhal, Amroha, Hathras, Kanshiramnagar, Saharanpur.

PATNA
Office of the Insurance Ombudsman,
1st Floor, Kalpana Arcade Building,
Bazar Samiti Road,
Bahadurpur,
Patna – 800 006.
Email:- bimalokpal.patna@gbic.co.in

States of Bihar and Jharkhand.

PUNE
Office of the Insurance Ombudsman,
Jeevan Darshan Building, 3rd Floor,
CTS Nos. 195 to 198,
NC Kelkar Road, Narayan Peth,
Pune – 411 030
Tel: 020 -32341320
Email:- bimalokpal.pune@gbic.co.inStates of Maharashtra, Area of Navi Mumbai and Thane excluding Mumbai Metropolitan Region.
Visit Rmoneyinsurance to get latest updates on Insurance.
Subscribe to Blogs
Get latest news & updates on Insurance Policies.
Renew Your Policy
Share your Current Policy &
Renew it Online.
Talk to an Expert Advisor
askus@rmoneyindia.com 0562-7188900
Call us now to get answers on all your queries related to Insurance.